Awards issued by A1 Club
---
A1 Century Club Award (A1CC)
Aiming a major CW award as a representative of A1 CLUB, we are pleased to announce a major CW award as A1 Century Club Award (A1CC Award) with the following rules.  
A1CC award has two categories "Original" and "Special", the former one is for A1 Club members only and the later one is for everybody.

Sample image: A1CC (The A1 Century Club Award), A4 size provided by PDF file only for DX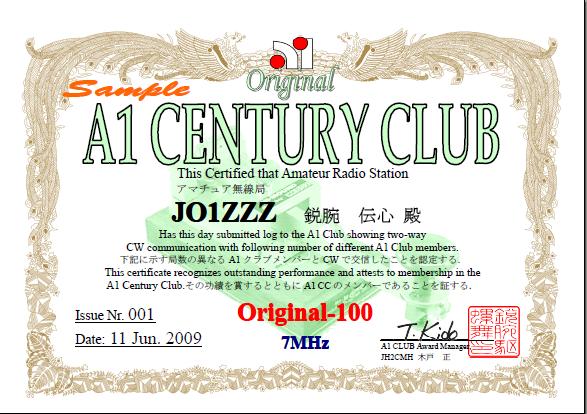 << Issue Record [PDF] >>

RULES & REQUIREMENTS

1.CATEGORY
  1.1 ORIGINAL (for A1 Club members only)
   To complete awards with QSOs with A1 Club member only.
   <Only A1 Club member can apply this category>

  1.2 SPECIAL (for everybody)
   Must include more than 1/5 of A1 Club member in QSOs.
   <Everyone can apply this category>

2. POINTS
   1 point for 1 CW QSO (No QSL card collection required)
   Same callsign cannot be counted repetitively.
   (e.g. : JO1ZZZ, JO1ZZZ/1, JO1ZZZ/QRP are all counted as one station.)
   All CW QSOs that you worked since you started ham radio may be used.
   
3. NECESSARY POINTS
   100 points till 199 points : A1CC-100 will be granted.
   Upper grades are granted by 100 points step.
   Skipping of grade is acceptable.

4. SPECIAL REMARKS
   Following remarks are acceptable if declared by applicant.
  - QRP (transmit power less than 5W),
  - Single Band
   (both QRP and Single Band may be applied at once)

5. APPLICATION
  Please submit by this Application Form.
  Log file to be attached shall be in accordance with the format specified in "7.Log File Specification"

6. Application Fee
   Free of charge. Note: Award issued by PDF only for overseas applicants.

7. Log File Specification
  ADIF format.
  If you cannot provide ADIF format log file, following style text data is also acceptable.


Callsign of wkd stn_DATE(yyyy-mm-dd)_time(hh:mm)_RST(TX)_RST(RX)

;
JE1TRV 2009-05-28 12:34 7.026 559 559
JR1CPB 2009-05-29 23:59 7.111 599 599
--------
--------
;
--------
like above, devide A1 Club member and none member, 1 line (carriage return) per 1 station,
1 space per each data.

 8. How to Count
    Roster of A1 Club member is listed HERE..
     
    The list is updated everyweek. Please check with the lastest list at the time of application.
    If there is discrepancey between application by applicants and check by manager due to time difference,
    the list at the time of check by manager has precedence. So, applied points should better have some margin.

---
CW-777

Make 7 CW QSOs on 7MHz on any of the following days of a month: 7, 17 or 27.
The hours of the QSOs must be based on JST (GMT+9).
Contacts on or after January 7, 2009 (JST) are valid.

Application Fee: Free of charge. Note: Awards issued by PDF only for overseas applicants.

Examples of Special Remarks: XXX successive days, XXX successive months, etc.

Download, fill in and submit as an attachment the Application Form (Excel
format) to award@a1club.org

<< Issue Record [PDF] >>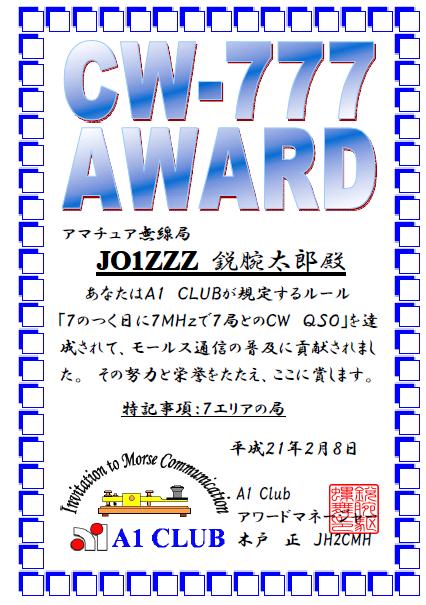 <2020-9-15>
---